Visits & Tours
Public Tours
Since the spring of 2014, the Mansion has held open Tour dates in association with the Compton Hill Water Tower & Park Preservation Society. In 2017, the Mansion will be open on the first Saturday afternoon of every month during April through November.
Private Tours
Private group tours of the mansion may be arranged. Call 314-664-3400 to schedule a tour for any day and time. Tours take about 1 hour and 15 minutes. For groups of 17 or more people, the cost is $15 per person. For groups with less than 17 people, the cost is a flat fee of $250.
Organize a Private Tour
More Video
2017 Public Tour Schedule
These are self-guided tours
April 1: 2 – 5pm
May 6: 2 – 5pm
June 3: 2 – 5pm
July 1: 2 – 5pm
August 5: 2 – 5pm
September 2: 2 – 5pm
October 7: 2 – 5pm
November 4: 2 – 5pm
December 7: 5 – 8pm *
December 8: 5 – 8pm *
Tickets
Adults – $15
Children 6-12 – $8
Children under 6 years – Free
Tickets are sold at the door or through Eventbrite. All children must be accompanied by an adult.
* Christmas Tour (with the Campbell House Museum) - $25 in advance / $35 day of tour.
---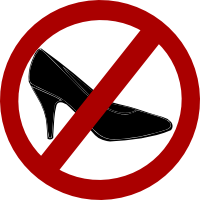 Flat-soled Shoes Only – No Small-Tipped Heels
Due to the delicate condition of the original golden oak flooring throughout the Mansion, high-heeled shoes are not allowed indoors at the Magic Chef. This is a zero tolerance area. You and your guests may bring ballet-type slippers or flats and leave the heels outside or in the car (there is no "shoe check" or "coat check" unless you arrange one). You must advise your guests of this policy in advance so they can select appropriate alternative shoes. Any damage caused by shoes of any type will be charged to you. Be comfortable! Wear flat-heeled shoes! Your feet and our floors will thank you.