The Magic Chef Mansion was built for Charles Stockstrom (1852-1935), the founder of the Quick Meal Stove Company, later renamed Magic Chef. The largest stove maker in the world at one time, the St. Louis plant alone sprawled over 600,000 square feet and employed 2,000 people.
Stockstrom worked closely with architect Ernst Janssen in designing the 12,000 square foot home. Construction began in 1907 and was completed a year later at a cost of $49,500.
In 1935, Stockstrom died at age 83. His daughter Adda Ohmeyer continued to reside in the Mansion until her death in 1990.
All of the original furnishings and some of the fixtures were sold at a week-long public auction prior to the house's sale in the fall of 1990 to the current owner. The new family moved in four months later, and began restoration. Over the next twenty years, some of the original items were tracked down, repurchased and returned to the house. The home has been painstakingly restored to its turn-of-the-century elegance, including original lighting fixtures and period furnishings.
Visit our Archives
View Videos
About our Logo
The Magic Chef Mansion (MCM) was constructed in 1908, or MCMVIII in Roman numerals. For the zero, we used the red Lorain wheel, which is the oven regulator that made Magic Chef famous.
About the Architect
Between 1894 and 1911, Ernst C. Janssen designed more than a dozen neighboring houses, as well as the Grand Boulevard entrance pillars to Compton Heights, but the Magic Chef Mansion may be his most opulent residential work. American born of German parents, he worked briefly as a carpenter and draftsman for St. Louis-area architects before entering the celebrated school of architecture in Karlsruhe, Germany in 1877. His years abroad surely afforded him the opportunity to see and be influenced by the great German castles and baronial mansions. From 1879 until his retirement in 1940, Janssen was responsible for many commercial and residential buildings across Missouri. Nationwide, brewery architecture was a mainstay of his practice. In fact, some refer to his signature style as "Brewer's Baronial".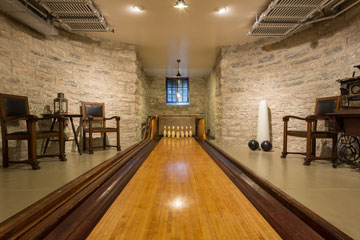 The BOWLING ALLEY with its 70-foot maple lane, is original to the house but was not included in the blueprints. The pins must be manually set but the Brunswick ball return railing is an engineering marvel. The original wooden pins and balls are on display along with the original scoreboard, which refers to "innings" rather than "frames".
The WINE CELLAR, GAME ROOM, and MACHINE SHOP ROOM (with 1906 belt-driven lathe) now house the current owner's various collections.